As the first privately owned bicycle service in Korea, S.Bike entered into an agreement with the Seoul Metropolitan Government and had its first run in Yeouido on the 9th.
S.Bike and the Seoul Metropolitan Government signed a "Private Bicycle-Sharing Pilot Operation Agreement" on the 8th to provide convenience to the citizens of Seoul.
The shared bicycles are similar in character to public bicycles in terms of bicycle-sharing services.
However, the difference lies in not using the local government's fund, since a private company operates it,; as such, it is also free from station restrictions.
In addition, the Seoul Metropolitan Government is planning to provide bicycle parking facilities and support the stable service of S.Bike.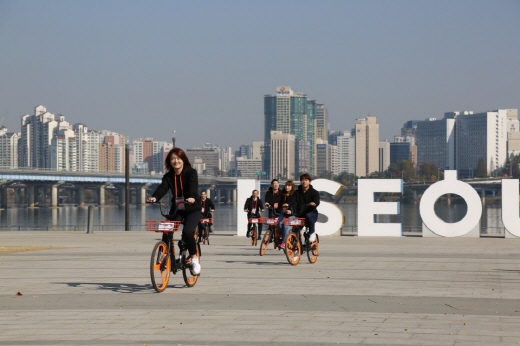 (Photo courtesy of MaaS Asia)
Both Ttareungyi, an existing public bicycle system, and S.Bike can be utilized together; As such, it is expected that the bicycle traffic convenience of Seoul citizens will increase.
Using S.Bike is easy. After installing the "S.Bike" app on your smartphone, you may then search for nearby bicycles. You can remove the lock by scanning the QR code or the bicycle number attached to the bicycle. After its use, you can park it in a nearby parking lot.
With its service launch, S.Bike will be holding various events, such as a 50% discount on deposits for November sign ups, free boarding pass, free coffee coupons, and so on. It is currently available on Android, and it will be available on iOS mid-November.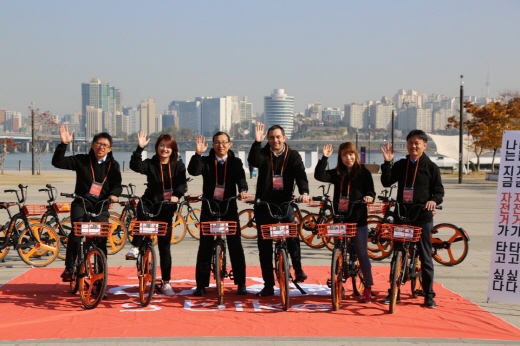 (Photo courtesy of MaaS Asia)
A representative from MaaS Asia expressed, "It is meaningful to launch the first ever private bicycle-sharing service in Seoul," and that, "We will expand our services to major cities nationwide to improve transportation for the people, and we will also contribute in creating more jobs."
In addition, MaaS Asia plans to expand its service to the world market, including China and Southeast Asia. "We hope to make a major contribution to the job creation in the domestic market during the period of expansion to the rest of the nation," he added.