What is a sharing economy?
What are we sharing around us?
What can we share moving forward?
Last November 1, Seongbuk-gu held the 2017 Youth Seongbuk Sharing Economy School Presentation at the Seongbuk-gu Village Social Economic Center.
From August 21 to October 24, Seongbuk-gu opened the "Seongbuk-gu Youth Sharin Economy School" which informed the values and culture of a sharing economy.
It ran programs such as ▲ the meaning of the need for a sharing economy, ▲ a cooperative consumption method found in their surroundings, and ▲ finding sharing economy ideas that can be practiced in real life per group, etc. for students.
This year's Seongbuk Sharing Economy School Presentation launched with Manager Shin Soo-ryun and the opening of Seongbuk-gu Village Social Economic Center. A total of eight groups participated in the Youth Sharing Economy School, four of which were: Gaewoon Middle School, Seokgwan Middle School, Jangwi Middle School, and Jongam Middle School.
Over the past two months, the Sharing Economy School became an avenue for students, who have considered the need for sharing and actionable ideas for a sharing economy, to present their various ideas.
After the presentation, they discussed the specific actionable steps through a Question and Answer session, depicting that they were very interested in each other's ideas for sharing.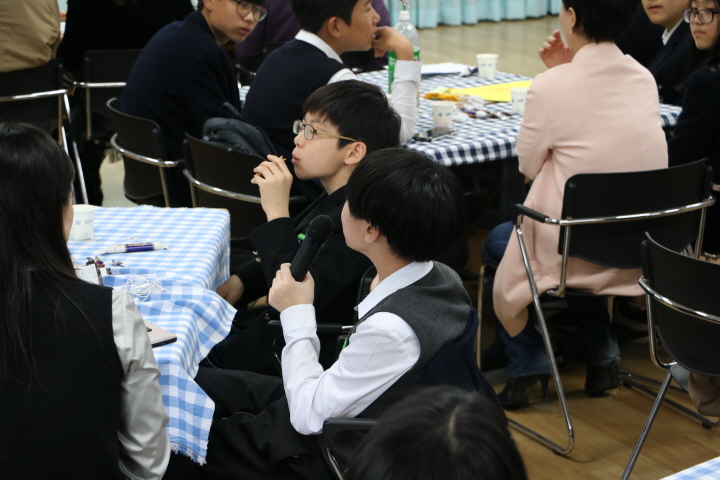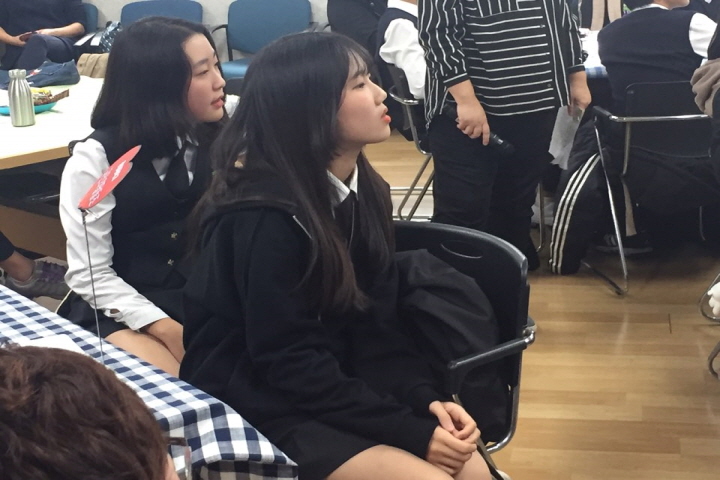 <Gaewoon Middle School Presentation Topic>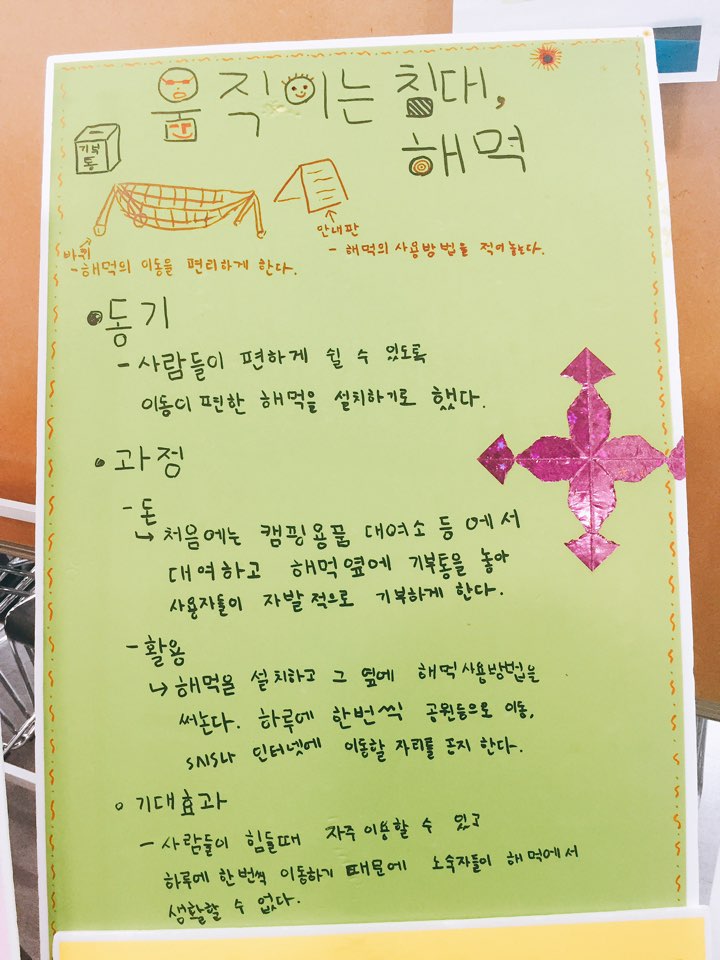 The students at Gaewoon Middle School presented the idea of sharing a hammock and a Magic Box for sharing sanitary napkins.
The hammock sharing is a fun idea where they would install a movable hammock in a park or a camping site to create a place for people to rest. This can also be used by the homeless, so it would be moved once every day. The new location will be announced on social media.
The Magic Box for sharing sanitary napkin rests on the idea of placing the sanitary napkins found in the clinic, to the women's toilet by creating a magic box. It is advantageous to girls for them not to proceed all the way to the clinic to get a sanitary napkin. Further, they wouldn't have to mind the boys in the clinic as well. They explained that they will give compensation to students who manage the sanitary napkins by giving additional points for volunteer activities.
<Seokgwan Middle School Presentation Topic>
The students of Seokgwan Middle School presented the idea of the Dancing King Talent Sharing, which teaches any willing students how to dance. One of the students who attended the presentation actually said that they could teach dancing; as such, we could've seen the dancing skills of Dancing King on-site.
The Jjang group suggested the idea of a Mat Playground that anyone can use during lunch break by providing a mat and games, such as Lego blocks and board games.
<Jangwi Middle School Presentation Topic>
The Best group of Jangwi Middle School suggested the idea of food (chocolate bars and sunflower seeds) to relieve the stress they've received from studying. They then mentioned that they would select five people per month.
The Beauty group suggested Indoor Shoes Sharing that aims to lend indoor shoes to students who have forgotten to bring theirs. This shall be done by buying indoor shoes by size, using the class fee, and placing them in front of the teacher's room.
Students actually get penalty points for not bringing indoor shoes; as such, the Indoor Shoes Sharing will resolve this problem. They also had a good idea of rewarding the student who will wash their shoes.
<Jongam Middle School Presentation Topic>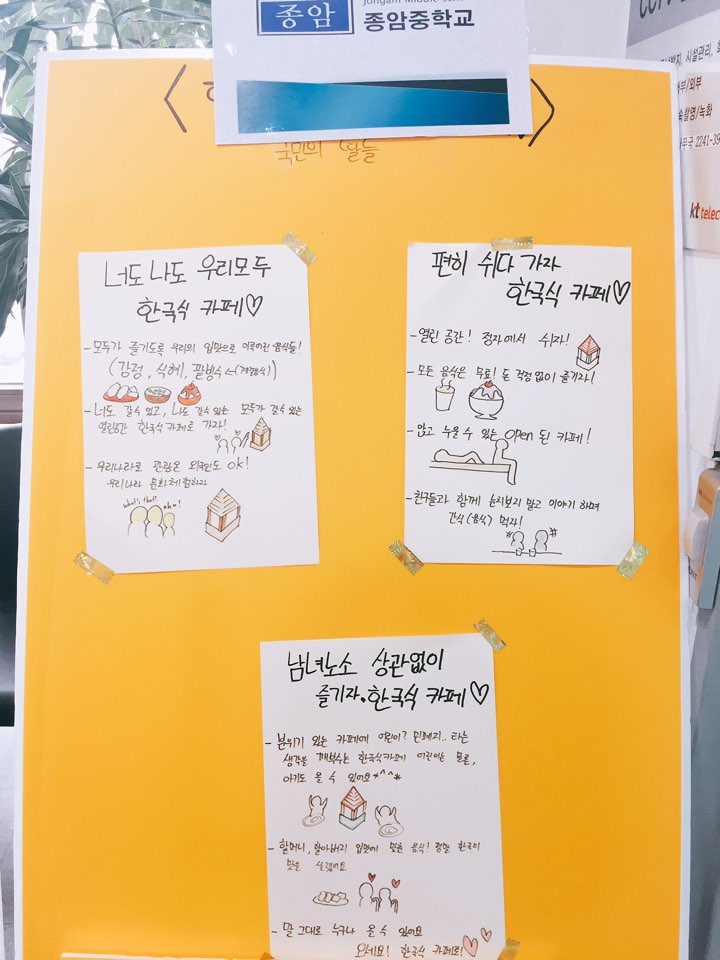 The students of Jongam Middle School received good feedback by presenting a smart tetrastich about sharing economy, and by suggesting the idea of using empty pavilions as Korean-style cafes.
The idea involved providing snacks and drinks at the pavilions as it is a shared space for people to relax and unwind.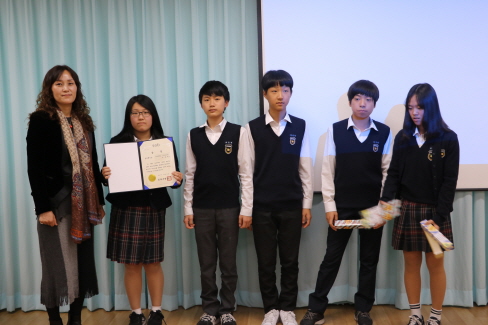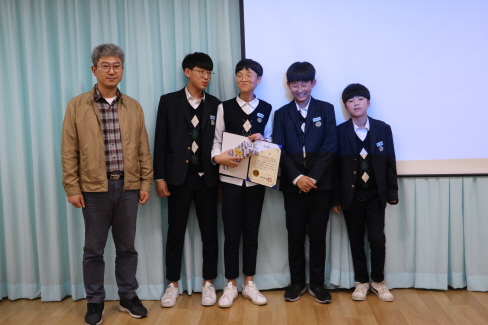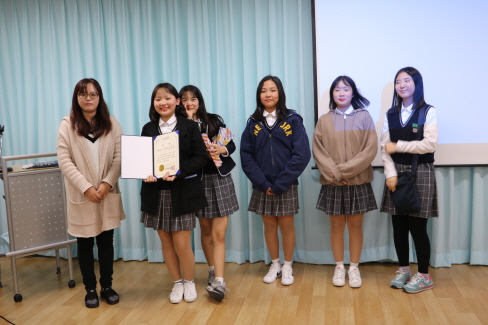 On this day, students who shared their ideas were awarded with the Sharing Collaboration Award, Sharing Innovation Award, Sharing Idea Award, and Sharing Leader Award.
Students were able to feel the value and happiness of sharing through the classes in the Sharing Economy School. They also expressed that they would no longer think of sharing as a difficult concept. They've mentioned that they will continue with their school life while thinking about more ways to share, and they also wanted more Sharing Economy School classes to take place. They've said that they would look for the different means of sharing in their daily lives, and would like for a sharing economy to be actualized.
Seongbuk-gu revelaed that through the Youth Sharing Economy School, there was a high level of satisfaction among students regarding the education on sharing economy. They plan to expand the Sharing Economy Schools as the demand among schools increase.
They have also asked for your continued interest and support in the education of a sharing economy.
The sharing ideas that the students have suggested are just the beginning.
We believe that many more activities like this should take place so that these students can learn about the sharing economy, and further grow into persons who shall lead Korea to a sharing economy and a sharing culture. Sharing Hub is cheering on the Sharing Economy Schools and its students.